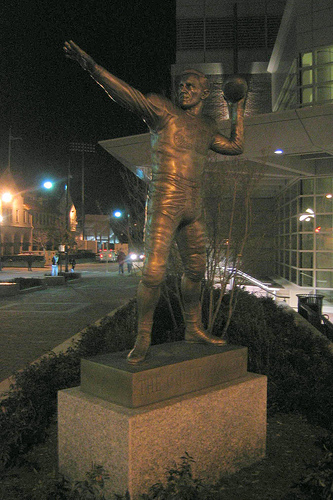 A bona fide sports legend. A perfect athlete. The greatest quarterback who ever lived. A major league baseball All-Star for decades to come. A future governor of Massachusetts.
The role model of all role models. A saint of a man.
Harry Agganis was many things to many people. One truth that all agree on was that in his brief dream of a life, he squeezed in way too many accomplishments to fit in a book or documentary. As Directors of "Agganis: Portrait of a Legend," Jim Jermanok and Yale Strom are both very honored to create a vivid visual testimony to a man who touched the hearts and souls of thousands. With a subject like Harry Agganis, we have created a film that is entertaining, enlightening and uplifting. And how could we not? Harry Agganis, the "Golden Greek," was famed throughout New England as the best ever two-sport athlete to have come from this part of the United States.
How often does an athlete today get drafted in the first rounds of both the National Football League and Major League Baseball? In fact Agganis turned down a signing bonus offer of $100,000 in 1953 from the great Cleveland Browns coach and founder Paul Brown to sign with the Boston Red Sox for substantially less. Brown was so impressed by Harry's MVP performance in the college all-star game that he insisted Harry replace the best quarterback at that time, Otto Graham. Agganis opted for professional baseball simply for the challenge of it.
Harry Agganis achieved All-American status in high school (where his games attracted an average of 25,000 spectators) and university in both football and baseball. No surprise that he was inducted into the College Football Hall of Fame. He was also a heartfelt human being. We rarely come across a person whose life is such a how-to primer on how to behave with character and class. A humble man, he always made time to listen and help his friends. And, of course, to have fun with them. He loved to laugh and clown around.
Harry's first priority was always his mom. When he had the chance to play college ball at the nation's powerhouse, Notre Dame (and 100 others), he chose to stay near his recently widowed mother and play for Boston University, who he quickly transformed into one of the best in the nation. When a number of major league teams bid for him, he chose the local team, the Boston Red Sox. Following one season in the minors, he was soon a starter in Fenway Park. After a superb year and a half at Boston, where he became Hall of Famer Ted Williams' favorite player, Harry met tragedy. At the young age of 26, he succumbed to a pulmonary embolism (blood clot of the lungs). Harry's life and career was meteoric in every sense. Ever since his early death, he has been missed and worshipped by the tens of thousands of fans lucky enough to see him play ball.
This upbeat, positive and life affirming story is a combination of interviews with Harry's surviving family, former classmates and teammates, as well as rare archival footage of him playing high school and college football, and Red Sox baseball. This compelling feature documentary, "Agganis: Portrait of a Legend," is expected to be released in 2010.